Konvekta climatic chamber for buses and agricultural vehicles with tests in extreme conditions
For all manufacturers of buses, agricultural machines, construction machines, buses, thermal superstructures, vehicles for medical transport, air conditioners for rail vehicles, Konvekta operatesHVAC validations, component tests, measurements acoustic and environmental simulations in extreme conditions for an analysis of performance and efficiency giving manufacturers the guarantee of maximum performance and quality of their vehicles
In its advanced Klimahalle of Schwalmstadt (between Frankfurt and Hanover), Konvekta submits vehicles and components to the required temperature conditions, in order to be able to carry out validations and related certifications to transport. Klimahalle offers the perfect test environment for testing your agricultural or commercial vehicles and their cooling and heating equipment.
HVAC validation | Thermal simulations Test components and additional services
Konvekta validates and certifies the performance and functionality of your equipment, thus guaranteeing excellent product quality.
HVAC
Validation and testing of DIN standards according to ISO 10263 and ISO 14269
Thermographic investigation with thermal imaging camera and real-time control of all parameters inside and outside the vehicle
Analysis of the performance and efficiency: or the measurement of the performance and functionality of the air conditioning and heating systems. To do this, we perform a wide range of temperature scenarios to ensure your vehicle's high climate performance and comfort and detect any weaknesses.

Component test
Air-Power. With various measuring devices and test benches, we can measure the performance of blowers and fans in detail. In addition, we are able to determine the flow rate of the air flow and the exit speeds from the nozzles directly in the system or inside a cabin and, if necessary, adjust the values optimally.
Each component of the system is brought to the limit of its capacity in a durability test and subjected to long-term testing. In this way, we can prevent potential loss of functionality even at the lowest level.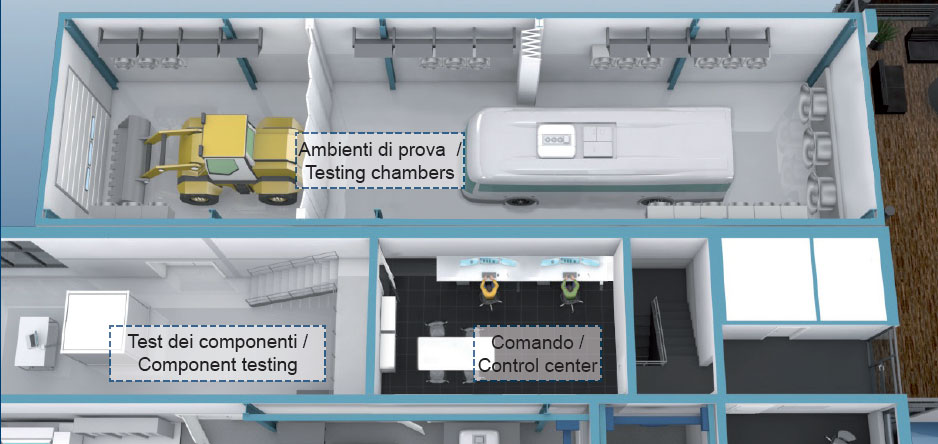 For all manufacturers of buses, agricultural machinery or special machines, Konvekta offers environmental simulations in its technology and innovation center for agricultural machines, construction machinery, buses, thermal superstructures, vehicles for transporting medicines, and air conditioners for rail vehicles.
Or even the defrosting of the window: with the help of a hot water simulator, we can simulate the defrosting process of the frozen windshield in your cabin at lower degrees and then optimize it. In this simulation, both temperature and volume flow can be set variably to simulate a wide variety of test situations.
Some characteristics
Accessible to vehicles with a total length of 24 meters and a height of 5.5 meters, the Climatic Chamber offers a range of temperatures between -20 ° and + 60 °, humidity between 30 and 80% as well as the simulation defrost and snow to ensure maximum performance and quality of your heating and cooling units for buses, coaches and agricultural vehicles.
various test benches are available in the climatic room, with the help of which prototypes or individual technical components & nbsp; are put to the test.
The air-conditioning room can be divided into three self-sufficient test chambers and is therefore also suitable for smaller means of transport & nbsp; for partial use.
In addition, it is possible to view various environmental simulations such as solar radiation or snow deposits. With this possibility, real circumstances can be simulated, e.g. agricultural machinery or construction machinery which is exposed to burning heat in fields or construction pits in extreme conditions.
Konvekta tests all your vehicles and machines for you: Agricultural machinery, Construction machinery, Bus, Thermal superstructures, Vehicles for transporting medicines, Air conditioners for rail vehicles. & nbsp;
The Konvekta climatic chamber therefore allows you to have:
monitoring of all parameters both inside and outside the vehicle
the documentation, processing and evaluation of the data
thermographic analysis with a thermal imaging camera
the mock-up project for the air and heating duct

The air conditioning units are validated in accordance with the requirements of the standards or customized for your performance specifications. All the results provided are evaluated directly and prepared in the form of a detailed analysis.