AC filtration solution for buses. micronAir ® Filter Konvekta
Air-con - 08/09/2021
Antivirus bus air conditioning filters. The Konvekta solution
Muta srl, Konvekta's agent for Italy presents micronAir®, the solution that drastically reduces the risk of contagion on vehicles such as coaches and buses.
As part of efforts to stop the spread of Covid-19, Konvekta, the German company of reference for innovative air conditioning and cooling systems for commercial vehicles and agricultural machinery, has developed micronAir®, the solution of air conditioning filters on buses.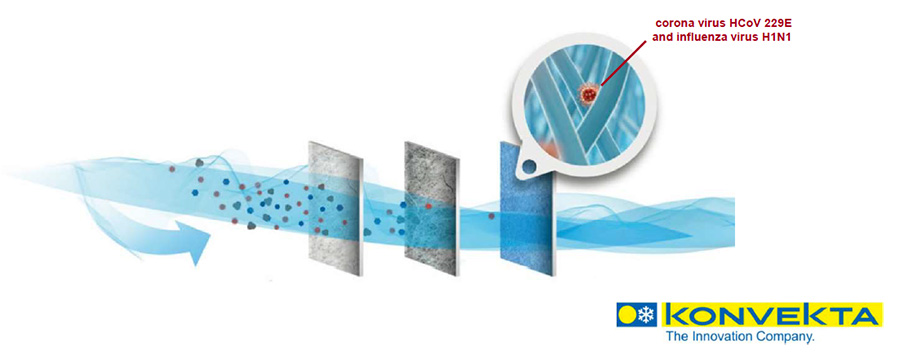 Let's see the features and benefits of this product developed in collaboration with Freudenberg Filtration Technologies.
Features and advantages of micronAir® bus air conditioning filters to limit the spread of viruses
• Simple installation
• Current filters can be exchanged 1:1 with micronAir® blue filter
• Suitable for all air-conducting components (roof air conditioner, front box, recirculation filter)
• No additional components
• No change to the software
• Highly efficient filters clean the ambient air
• The fresh air taken in from outside
• The remaining recirculated air on hot days
• Particles as small as 0.5 microns are filtered out
• Droplets or dust particles to which the virus adheres can be captured and filtered out
• Current filters can be exchanged 1:1 with the
micronAir® blue filter
• Suitable for air conditioning units / roof heaters: P-Series 600 - 900,
UltraLight 500 – 900, UltraLight 500EM – 700EM, CO2 heat pumps UltraLight500 - 700
(Reference filter H14-004-483-1)

micronAir® by Konvekta. Active protection against viruses and bacteria
Passenger health is a top priority for bus manufacturers and operators.
This is especially true against the background of the worldwide Covid-19 pandemic. According to current findings, frequent air exchange significantly reduces the risk of spreading viruses through airborne transmission. Thus, the ventilation and air conditioning system in buses is currently of particular importance.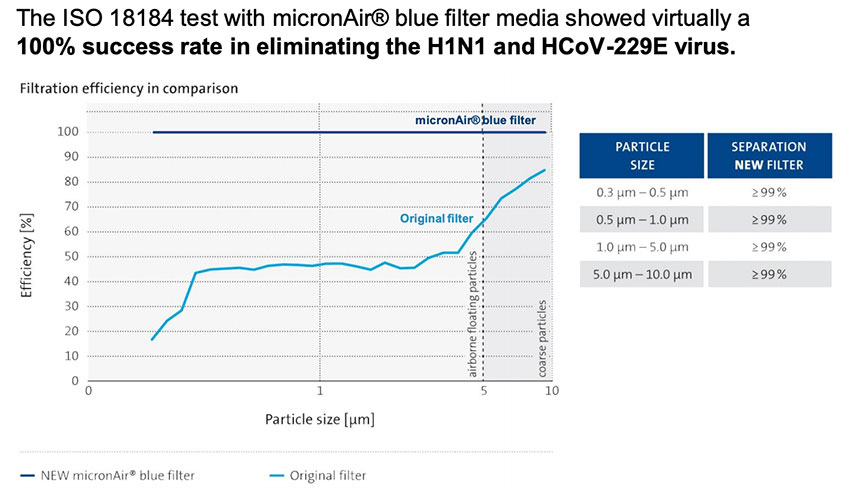 ---
Conclusions
If the health of your passengers is a top priority for you too, consider installing micronAir® antivirus bus air conditioning filters.
Muta srl, Konvekta agent in Italy, is pleased to provide you with all the support and clarifications you need

Call Muta at 059 822362. Or write to us at: info@mutasrl.com