Muta and Konvekta for HVAC solutions on Fiori vehicles
Air-con - 08/05/2023
Muta and Konvekta for HVAC solutions on Fiori vehicles 
Presenting HVAC solutions for Fiori Group S.p.A. operating machines. With this aim, Muta and Konvekta visited the historical Fiori Group S.p.A. company based in Finale Emilia (Modena).
As agents for Italy of Konvekta, leader of mobile air conditioning systems in the bus and operator cabins sector, Muta had the pleasure of presenting Konvekta HVAC solutions for tractor cabs, forklifts and operating machines.
With a history that dates back to 1942, Fiori Group S.p.A. designs, develops and manufactures off-road Concrete Batching Vehicles and Dumpers for the construction industry. 
The company's product portfolio is rounded off by the Group capabilities in finding the most effective solution for any customer in making and transporting concrete on-site with a great flexibility, minimizing energy costs and reducing environmental impact. Fiori produces self-loading mixer, front loading, site dumpers e transport mixers and other solutions for producing and transporting concrete on site, reducing energy costs and environmental impact.
Konvekta's HVAC solutions have been highly appreciated for the high technology, cutting-edge custom systems for the air conditioning of the cabins of construction, agricultural, forestry and special machinery, but also for the use of CO2 as an ecological choice for its products.
Today the heating / cooling system is a standard for those who work inside glass cabins in the construction sector, in agriculture, or as Fiori in the Industrial & Residential Buildings, Urbanization Works, Railways, Roads, Bridges, Sewers, Irrigation, Tunnel construction, Mining.
And Muta, as a Konvekta agent, is aware that there are two problems: finding the most suitable system to reconcile efficiency with the ever more stringent environmental requirements and the customization needs of the operator cabins, where the best comfort is required to withstand the hardest conditions.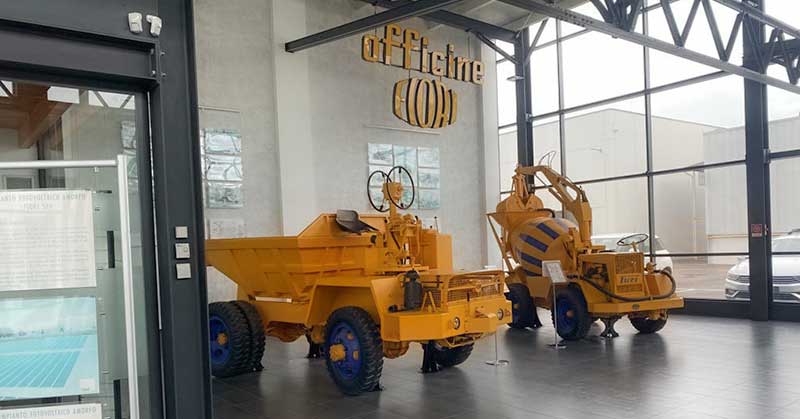 The visit to Fiori Group S.p.A. it was also an opportunity to discuss and share company values and policies, among all the quality of products and services offered, attention to the environment, health and safety at work, which constitute the primary values and strategic objectives of Fiori Group S.p.A.